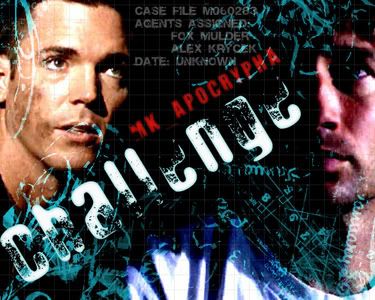 It's challenge time, M/Kers! Our last challenge gave us an AMAZING turn out of talent and fun. Lets do it again with our second challenge! Please remember it is a
community rule
that all pics and fic over 20K *must* be put behing an LJ-cut. If you do not know how to do this, ask me!
+++++++++++++++++++
The Perfect Pairing Challenge
+++++++++++++++++++
There are just certain things in this universe that BELONG together. You cannot imagine one without the other, because it just isn't the same. In honour of our Perfect Pairing, Mulder & Krycek, lets give them some other perfect pairings to show them how much they mean to us! Feel free to invent your own ideas of what a perfect pairing is, or use common staples that everyone would agree with.
And remember, you CAN think outside of the box!
EXAMPLES
Peanut butter and jelly. Dinner and a movie. Starsky & Hutch. Blowjobs and chocolate cake.
You MAY NOT use these examples.
RULES
1. All LiveJournal icons must be 100x100 pixels.
2. Graphics may be as large or small as you'd like, but please format them to be under 200K if possible.
3. Graphics must be in .jpg or .gif form. No photoshop files please.
4. Fics & Drabbles should be formatted with headers according to
Gossamer
or
The Basement
guidlines. DO specify if you would or would not like your stuff archived.
5. Members may submit both graphics AND writing. Members may submit as much material as they would like.
6. COMMENT on other members submissions please! We all love feedback.
DEADLINE
The community will be open for submissions between now and October 18th. Post as many submissions as you'd like. There is no limit. Any submissions posted as of October 19th will be deleted by a moderator.